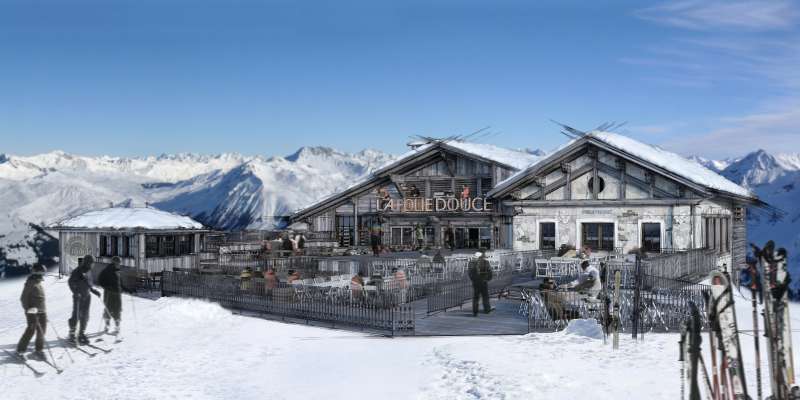 Something is different in Megève this winter. It's caught a highly contagious bug that for decades has been spreading across the French Alps, afflicting cute ski villages like Val Thorens and Meribel. The bug is called… La Folie Douce. And just ask the guys coming down the St. Gervais slopes at the end of the day: La Folie Douce is a doozy!
OK, so maybe we are exaggerating, but the success of La Folie Douce is nothing short of viral. When doors opened in December 2014 in Mègeve, a whole new dimension of party ambiance heated up on the slopes. Seasoned alpine skiers had already visited its sister outposts in Val d'Isère, Val Thorens, and Meribel/Courchevel, but the buzz of Megève's new addition has sent half of Geneva up the mountain.
The concept of Folie Douce was pretty novel back in the 1980's when it started. After all, weren't you supposed to get to the bottom of the slopes before enjoying 'après-ski' pleasures like hot wine, champagne, and a cold beer ? But the fast success of La Folie Douce, with its outdoor clubbing ambiance and cabaret entertainment at 2000m in alitude soon proved otherwise. And now, Megève has its own slope spectacular, with doors opening in the morning and closing with the last chair lifts around 4:30pm.
One thing is for sure, even if the club scene was never your thing- La Folie Douce in Megève is worth a stop, regardless of your age or table-dancing skills. When mountain lovers get together, the result is a fun, welcoming ambiance for all. Just remember that you have to get down the mountain in the end.
La Folie Douce Saint Gervais
Top of the lifts, Mont-Joux, France 74170
Telephone: (33) 04 50 58 99 67
Note: Table reservations are recommended and your concierge at Eden Luxury Homes can make arrangements at your request.