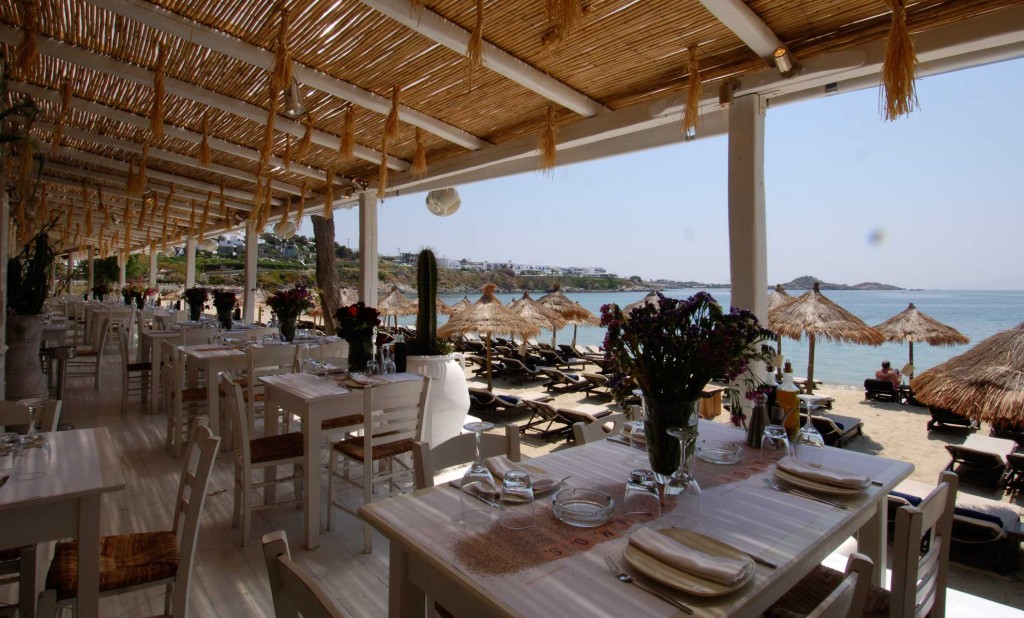 Unlike other trendy Mediterranean islands, the hot spots of Mykonos have remained unchanged for decades. Thanks in part to loyalty from visiting Athenians, a handful of establishments continue to deliver the best food, best service, and best ambiance, year after year.
First and foremost, the jewel of Psarou beach, Nammos. This favorite lunch spot can be visited by car or by sea, and provides an excellent venue to spend the entire day. The restaurant is a cycladic dream- breezy and chic, with an excellent wine list and fresh seafood. Book some sunbeds and spend the afternoon relaxing and enjoying the crystal clear waters. There's a spa for massages, and even yoga offerings on hand for those who seek some detox. Come evening, the cocktail bar starts to buzz, and a collection of beautiful Missoni clad beach bums sway to the music as the sun sets. Nothing matches the understated cool of Nammos Beach Club.
For dinner, Sea Satin Market is a classic of Mykonos Town. The setting is simply magical. Nestled underneath the famous windmills of the village, this windswept terrace with festive lighting is the perfect place to try fresh seafood while listening to the waves crash to shore. It's such a spectacular setting that sometime the service can be lacking, but if you are patient and in the mood for an unforgettable meal, Sea Satin Market is a winner.
It's customary to walk off a big dinner in Greece, and while wandering through the narrow streets of town, you might stumble upon Astra. If you do, stop in for a drink. Protected from the wind, and in typical whitewashed cycladic style, Astra is a favorite of Athenians for post-dinner drinks. Take a table in the garden, and enjoy a digestif before heading to bed to rest up for another day of Mykonos fun.
Nammos
Address: Psarou Beach, Mikonos
Phone:+30 2289 022440
Sea Satin Market
Address: Little Venice, Mikonos
Phone:+30 2289 024676
Astra
Address: Enoplon Dynameon St., Tria Pigadia (Three Wells), Mikonos 846 00
Phone:+30 2289 024767