The Megeve afterski Guide
The Megeve afterski Guide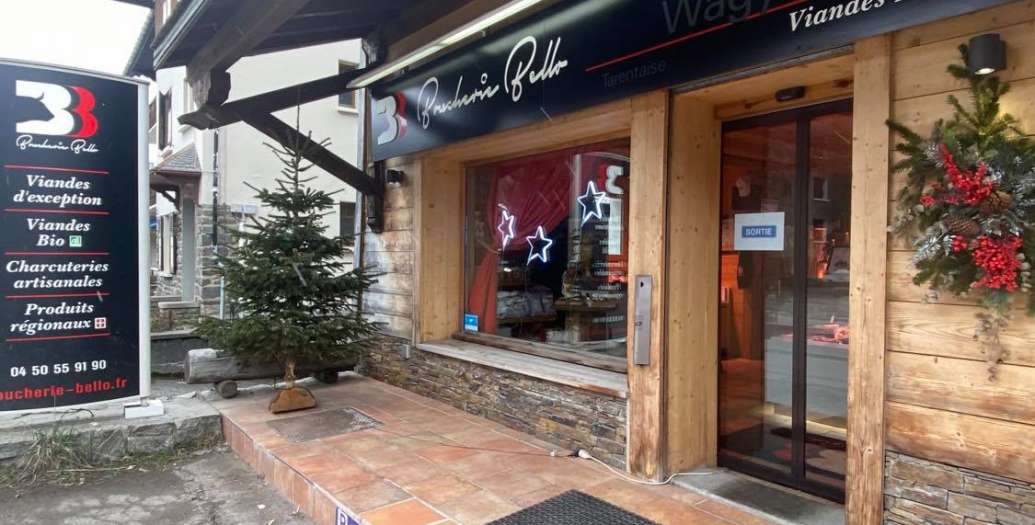 The Bello Megeve Butcher's offers a veritable arsenal of meats and artisanal charcuteries.

Carefully selected and matured meats, some of which have been awarded prizes and matured in their own maturing cellars: Suckling veal under the mother, Megeve lamb, Pluma de Pata Negra, Salers, Aubrac, organic Wagyu and organic Angus from their own livestock …

And if you are looking for an alternative to classic mountain meals such as fondue, tartiflette or raclette, you should know that Boucherie Bello prepares classic or premium "pierrade" trays that will delight all your guests (reservation required).

Come and discover a wide choice of regional, Iberian, Pata-Negra, Bigorre or Italian cold meats and a delicatessen section, a source of inspiration.

Come and discover a wide choice of regional, Iberian, Pata-Negra, Bigorre and Italian cold meats.

For the Catering section, come and discover every day a dish of the day to take away (lasagne, candied pork cheeks, veal blanquette, beef bourguignon…) and side dishes for your meat such as gratins dauphinois, truffle purée, potato pancakes, spinach…

Pierrade, carpaccio, tartar, platters of cold cuts, 100% home-made sausages from the Bello butcher's shop, not forgetting the kebabs, are waiting for you right now!
Sausages: Merguez, Txistorra Basque sausage, Pork sausage with Espelette pepper, piquillos and pine nuts, Milk-fed veal sausage with mountain cheese and candied tomatoes…
Brochettes : Beef kebabs, Poultry kebabs
chicken, veal fillet skewer, pork fillet skewer…
And much more await you!

Butcher's shop open every day from 9am to 1pm and from 3.30pm to 8pm. Saturday non-stop and Sunday from 9am to 1pm.

So, do not hesitate to place your orders

Free parking is available for guests right in front of the shop.